Is your home a refuge and retreat where you can relax and reenergize? When you walk through the door, does the stress of the day melt away? Or if not, is there a special room in your home where you can escape from the pressures of daily life - a space that has soothing colors, soft lines, comforting furnishings and peaceful artwork?

As a former interior designer, I have been interested in the psychological and healing possibilities of the built environment for many years. It is my main motivator for painting coastal, tropical and water images, beside the fact that I've had a love affair with the ocean all my life.
Paintings of water provide you with a serene energy for your home that is soothing, calming and stress-reducing.

Hotels and spas around the world focus on water elements to reinforce the rejuvenating, refreshing purpose of a resort.

Research shows that peaceful paintings of water and landscapes in healthcare facilities promote healing and reduce the length of patient stays.

This month I've been adding to my Serenity Collection of coastal water and landscape paintings which are very minimal in design. Here are three of my new additions in soft, muted colors: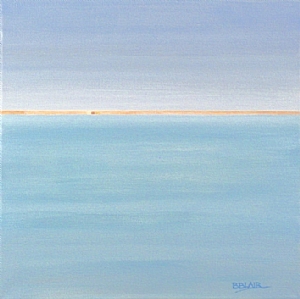 "Coastal Calm" 12" x 12"
© 2011 Barbara Blair
"Distant Shore" 12" x 12"
© 2011 Barbara Blair
"Tranquil Coast" 12" x 12"
© 2011 Barbara Blair
Although these pieces are a smaller 12x12" size, I welcome custom commissions in colors of your choice in larger sizes such as 18", 24", 30" or 36" square.

These images are ideal over a living room sofa, in a dining room, a bedroom, a meditation room, or anywhere in the home where you would like to create a peaceful, soothing retreat for rest and relaxation.

You will find them on my website here. They are very reasonably priced. If you would like pricing on larger sizes, please call me at 760-966-1295 or send me an email.
My next project is to paint larger sizes with these themes, and they will be posted to my website soon, so please check back.

Here are some sobering facts about stress:
Stress has become an epidemic in our society, and many people have accepted it as part of their daily lives without realizing the toll it takes on our health and well-being.

Stress is responsible for 90% of health problems. Almost every major illness has been linked to chronic stress.

Stress is a flight or fight response. It creates completely different chemicals in your body than joy and love.

Everyday you lose and have to repair and replace hundreds of billions of cells. Stress hormones shut down the immune system, and inhibit growth of the body so that the body breaks down, ages and gets diseases.

Stress is the #1 cause of depression, and one in 15 Americans are depressed.

40 million people in the U.S., or 1 in 7, are under some kind of anxiety or stress that is draining them.
While creating your home as a supportive retreat is a start, here are more suggestions to help you reduce stress:
Identify the people or circumstances that cause you stress, and learn to manage or avoid them.

Reduce the amount of television watching, and banish noisy video games to a secondary room of the house.

Listen to peaceful music combined with soothing sounds of nature.

Learn to say "no" when asked to do things that you don't want to do.

Laugh more. Laughter heals.

Practice a meditation technique every day. Transcendental Meditation (TM) is excellent.

Exercise regularly.

Get enough sleep

Eat a healthy nutritious diet.

Forgive yourself and others.

Start a daily "Gratitude" list.

Be aware of your negative thoughts and emotions and focus on the positive instead. As you release negative emotions you open the way to experience more joy and peace of mind.